Nine Christmas baking and gifting ideas.
In the light of the madness that is Black Friday and Cyber Monday I feel it is always a nice touch at Christmas to offer guests a few home made treats. Whether as a gift, a contribution to a Christmas fundraiser or simply to share with anyone popping in to visit over the festive season.
I will be putting together some new Christmas recipes, you can be sure of that but I just thought I'd collate a few of the old ones. Mostly this is for my benefit although I hope it is useful for you too!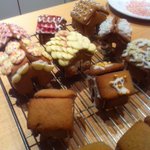 Leftover chocolate fridge cake.
Home made hot chocolate stirrers.
Gingerbread stars for your coffee mug. 
Giant stained glass window biscuits.