Crystal Palace cake – a happy birthday and a happy season too.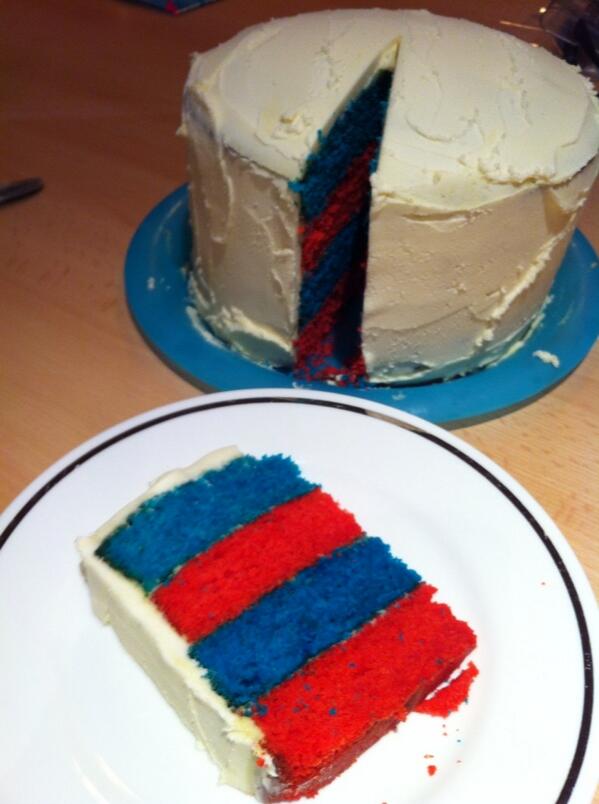 The start of a new football season is always exciting. So full of promise and expectation. Being a Crystal Palace supporter I know that every season is going to bring more than it's fair share of highs and more often than not lows.
Now we are in the Premiership I just hope that I can end every match day without feeling that I've spent the day riding Stealth at Thorpe Park.
The off season is very short but this year we still managed to squeeze a little Palace into it as my OH had his birthday then. This year I made a football cake. Not a green iced one with nets, pitch markings and Subbuteo footballers, but still a football cake none the less.
I had thought about making a shirt cake but couldn't think of a way to get the shape right. Then it struck me, why not forget about the shape and concentrate on the colours. I decided to make an Ombré type cake in red and blue stripes.
If you support a team, why not make one in your team colours.
Ingredients
Makes 4 layers
2 x 7″ sandwich tins, greased and base lined with parchment
(You need to cook in two batches unless you have 4 sandwich tins.)
4 eggs (weighed)
Same weight as eggs of butter
Same weight as eggs of caster sugar
Same weight as eggs of self raising flour
4 tablespoons of milk
in this case, red and blue colouring gels, but colours of your choice.
Buttercream icing
6oz butter
12oz icing sugar
How to ….
Pre heat the oven to 190c / gas 5
Butter and base line the sandwich tins
Cream together the butter and the sugar
beat in the eggs one at a time, adding a tbsp of flour with each egg.
Fold in the remaining flour.
Slacken the mixture with the milk, stirring in gently.
Divide the mixture into two bowls.
Colour the mixture using the gels. Add little by little as gels are very vibrant.
Divide again into two sandwich tins and bake for 25 minutes or until a skewer comes out clean. You now have two cakes of the same colour.
Cool in the tin for 5 minutes and then turn out onto a cooling rack.
Repeat for the other coloured mixture.
Beat together the butter and the icing sugar to make the butter cream
Sandwich together the cakes using a little buttercream between each layer.
Place the tower of cakes onto a stand or plate.
Cover the cake completely with the butter icing,no cake should show through.
Slice the cake to reveal your true colours.  I have already been asked to make a cake for a Crystal Palace fanzine for the start of the season, an Arsenal fan and a Harlequins fan. This cake lends itself to so many possibilities. Which team would you make yourself a cake for?