A whole gingerbread hamlet!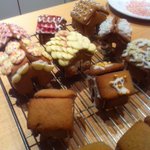 I love to cook with my children, I love to cook for my children. However, last week my teen came home from school and said she had volunteered me to make a cake for school. OK I thought that's fine. "It's for tomorrow, my geography class".Teeth clenched slightly but  I did have all the ingredients in the house so I was still just about smiling. Teen turns and walks away, looks back over her shoulder and says. "Oh, and it needs to be iced and in the shape of a volcano." There was an eruption of sorts in the middle of our kitchen at that point. Needless to say said teen helped with the cooking and icing of the cake and it went down well, apparently.
I felt a similar knot in my stomach later that week when the same teen asked if we could make a Gingerbread house. I have never made on before, she certainly hasn't so where the idea came from I have no idea and neither does she but I am so glad I said yes. I am a teacher, it is a week until the end of term, I am dog tired, Christmas is rapidly losing it's sparkle. Add to this that teenagers never clean up the kitchen well and they have the attention span of a goldfish on most occasions. Gingerbread houses, ha!
I confess I did look at the ready to assemble packs, but my tastebuds wouldn't let me buy one. So I searched on the net for ideas, I asked the Twitter hive mind to point me to the right people and friends on Facebook helped too.
I decided that making a huge Gothic recreation of the Addams family home from Gingerbread and penny sweets was probably a little ambitious so small was the way to go.
A link from a friend sent me to the NotMartha Blog. Small gingerbread houses  that are designed to perch on your coffee cup. I used the template and idea to make myself a small Gingerbread village.
The recipe I used wasn't from the blog as it seemed to make a vast quantity and I only had space for a hamlet not a whole metropolis. I used on that Twitter suggested. You can find it here. Again I halved the quantities given and I still made 12 mini houses and had a few spare pieces in case of breakages.
The pieces were glued together with icing sugar and water mixed to the consistency of polyfilla!
The cupboard was emptied of anything remotely sparkly, glittery of Christmassy to decorate the houses.  This was supplemented with some chocolate buttons and strawberry laces. The only other thing I used was a disposable piping bag and I snipped the end off but you could use a nozzle if you wanted.
If I say so myself they look very cute, we had fun making them and the teens want to do them again next year. I think this could be the beginning of a new family tradition.
These are so easy to make with children so I'm adding this to the Family Foodies link up this month, it's theme being Kids Christmas. It is being hosted this month by Eat your veg. and Bangers and Mash
Thank you to both the Not Martha blog and Lexeat! for their inspiration and recipes. I have also enered these into the Great British baking Club's December challenge as it's Gingerbread houses.