I love home made marshmallows. I have made several variations (mulled wine, candy cane) in the past, as well as recipes that use them such as home made Tunnocks tea cakes. So when Sainsburys offered me the opportunity to try their Marshmallow kit I was intrigued.
Now of course I wasn't going to just make the basic plain vanilla version. I like to take my marshmallows to the max. Feeling a little fuzzy headed I decided that a hot toddy was exactly what I needed, so that was the flavour of marshmallows I made.
You need one Sainsbury's marshmallow kit. Cinnamon sticks, lemon, ginger beer (a good one!) and whisky.
Following the kit instructions make up your marshmallows. I made the hot toddy first and then used it to replace the water in the kit. The whisky cooks out as you heat it so these are not particularly alcoholic. Leaving out the whisky would still make a very tasty marshmallow. The cinnamon stick and a strip of lemon peel is popped into the syrup as it heats and that imparts the flavour beautifully.
One suggestion I would add is to use more cornflour and icing sugar to line your pan as marshmallows are sticky my their very nature. Also Sainsburys suggest you use an 8″ by 8″ pan but don't appear to sell them in my local (very large) store! A 9 x 9 worked just as well.
Decorated with a little edible silver leaf, bagged up and tied with ribbon, these kits are really very, very easy to use and taste great. Thank you Sainsburys for letting me try the kit out.
Disclosure – I was sent the kit to try and a voucher to compensate for the cost of additional ingredients. I was not asked to write a positive review. All photos are my own.
So, in October I turned 50. I hated it.
Now I have realised I can't do anything about it so I'm going to embrace it.
Several things happened. I have begun to be more assertive. Life is to short to play games. Say it if you mean it, and keep quiet if you don't. My bullshit-O-meter has become very sensitive. I have a very low tolerance for charlatans and phonys it appears. I have also decided to say "yes" more often. Even when my head is screaming "Nooooooo!" I've tried to let the default answer be "yes", especially in situations where I know I'm out of my comfort zone.
I certainly won't do anything illegal, I probably won't do anything immoral but I will definately do anything fattening! I have made the decision not to regret missed opportunities because I won't be missing them.
And why share this with the world? Well, on Monday one such opportunity arose. Following on from The Food Poverty Inquiry report, Baroness Jenkins made an off the cuff remark that "Poor people don't know how to cook". I followed the ensuing Hoo Haa in the papers and online with interest. A pity that an unscripted remark got in the way of the discussion we needed to have over the huge crisis Britain finds itself in regarding Food Poverty and food waste.
Then the phone rang.
Sky News. For me. Were they sure they had the right person? Apparently so.  As a writer on Food Waste, would I be interviewed on the live 7.30 news and respond to the issues raised? My head kicked in with "Noooooo!" but my mouth then said "yes". Despite a serious dose of Imposter syndrome in the car up to the studios, I went. In real life I'm a Primary school teacher so my world revolves around term times, meetings and finding a clean cup in the staff room cupboard. I've been interviewed before but this was peak time TV.
Would I do it again? In a heartbeat. Should you stop saying no and then regretting it? Hell yes! As Eleanor Roosevelt famously said, "Do one thing every day that scares you." You won't regret it.
If you want to hear what I said then the link to the intervew is here.
Becky Thorn Sky News Interview
Now, I'm not one to swerve the smoked salmon and scrambled eggs on Christmas morning but I do like to have a healthy alternative on the other days. A yogurt just isn't enough and I'm not a cereal person. I love a bagel but they are often snaffled up before I even get a look in. I want something special, something Christmassy and something that I could give as a gift. Christmas spiced granola fits that bill.
Christmas spiced granola
300g jumbo oats
100g flaked almonds
100g walnut pieces
75g cranberries (I had orange flavoured ones from Sainsburys)
50g coconut flakes
125 ml golden syrup
2 tbsp vegetable oil
1 tsp cinnamon
1 tsp ginger
1/2 tsp vanilla powder
(you need two baking trays and a large bowl)
How to
Preheat the oven to 150c / gas 2
Pour the syrup, oil and spices into a bowl. Mix well.
Tip in the oats and nuts. Combine until coated equally.
Divide between the two trays and bake for 15 minutes.
Take out from the oven, toss on the tray with a spatula. Stir in the cranberries and coconut. Return to the oven for a further 15 minutes.
Cool on the trays stirring and loosening often to prevent the granola welding itself to the pan.
Once cold store in a tin, clip lock jar or pop into clear bags to give as a gift.
In the light of the madness that is Black Friday and Cyber Monday I feel it is always a nice touch at Christmas to offer guests a few home made treats. Whether as a gift, a contribution to a Christmas fundraiser or simply to share with anyone popping in to visit over the festive season.
I will be putting together some new Christmas recipes, you can be sure of that but I just thought I'd collate a few of the old ones. Mostly this is for my benefit although I hope it is useful for you too!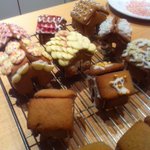 Leftover chocolate fridge cake.
Home made hot chocolate stirrers.
Gingerbread stars for your coffee mug. 
Giant stained glass window biscuits.
Christmas panics me. So much food and so many opportunities to scrape it into the bin uneaten and wasted. When there are families suffering real hardships can we really all overindulge without a thought for others? A spur of the moment midweek dinner has given me an idea.
It was Thanksgiving on Thursday, so I thought it would be fun to have a turkey dinner whilst watching the NFL game in our house on the south London / Surrey borders. Of course I had no plans to cook a whole turkey. A turkey portion was the only option.
I looked at the turkey thighs and the turkey legs, both meaty and affordable. In the end I plumped for a boned out breast for the magnificent sum of 4 pounds. Large enough to feed 3 adults it would easily feed two adults and two children, especially when bulked out with lots of vegetables and a good splash of gravy.
Roasted in the oven for an hour and 20 minutes, along with a tray of potatoes and sweet potatoes, a few chipolatas and bacon on the crispy skin the turkey was moist and succulent. Do add bread sauce, stuffing and a big pan of green vegetables too. I'll have just one sprout thank you, to show willing!
Just think, do you need to buy a bird the size of a small toddler just for cold turkey sandwiches the following day? Could you live without Turkey curry for just one year? Wouldn't it be great not to have to completely rearrange the fridge to house the carcass?
You know that list you have in your head, the one entitled "when I win the lottery I will …." Well, near the top of mine is 'buy a house on the island of Ischia.' Noisy, bustling and lapped by the warm waters of the Bay of Naples it is a place I love. I don't get to visit too often but last week I found another little piece of Italy far nearer to my home, and it is one I shall be returning to soon.
On Monday 17th November, Terroni & Son's hosted an exclusive Parma Ham celebratory evening to mark their status as winners of the Parma Ham Specialist programme, 2013. Well known chef Aldo Zilli presented the 2013 Specialist programme winners with their Crown Anniversary Slicer. I and my fellow guests were invited to try a selection of Parma Ham themed canapés; fine Italian prosecco and freshly sliced Parma Ham throughout the evening. Oh goodness. I could , and indeed think I may have tried, to have eaten my body weight in the most delicious Parma ham canapes.
Parma Ham is a Protected Designation of Origin (PDO) product and is 100% natural. The drying process that Parma Ham goes through creates a ham that is very low in fat content, with many mineral salts, vitamins, antioxidants and easily digestible proteins. Prosciutto di Parma is produced in the hills surrounding the Italian town of Parma, a northern town in the Emilia Romagna region of Italy. The unique, sweet taste of Parma Ham is dependent on this traditional production process passed down from Roman times, carefully controlled by the Consorzio del Prosciutto di Parma. There are over 150 Parma Ham producers in Italy who continue to practice these methods.
Terroni & Son's is London's oldest delicatessen, having been established in 1878. They offer a wide range of Italian foods and provisions including speciality wines and cured meats. Its prime location next door to the Italian church, St. Peter's in Clerkenwell has made it synonymous with the local Italian population. Carrying over 130 years of experience, Terroni have a reputation as the number one delicatessen in London. Terroni & Son's showcased extensive knowledge of Parma Ham in addition to understanding how to perfectly handle, prepare and slice the product. These fantastic qualities, history and focused approach all contributed to them being named the UK Specialist of 2013.
Not only that, they had the most wonderful looking selection of goodies on their menu board. I have a feeling they make a killer expresso too. I'm going back soon to find out.
Here are three of the recipes from the evening. All delicious – I can vouch for this as I tried them all! Ideal for a Christmas drinks party, New years eve or just a night in watching the Italian Job!
Chilli-lemon and coriander drenched bocconicini wrapped in Parma Ham
Makes 20 canapés
20 mozzarella pearls
10 slices Parma Ham
Marinade:
2 tbsp coriander, chopped
Zest and juice of 2 limes
1 red chilli, deseeded and finely chopped
2 tbsp olive oil
1 1/2 tbsp runny honey
Mix together all the marinade ingredients in a bowl and add the mozzarella pearls

Leave, covered, to marinate for 1-4 hours

Wrap each mozzarella ball in half a slice of Parma Ham and skewer with a cocktail stick before serving to guests
Parma Ham, goats cheese, avocado and fresh herb bruschetta
Makes 10 bruschettas
10 thin slices of ciabatta bread
Olive oil
1 clove garlic
5 basil leaves
2 avocados, peeled, stoned, sliced and drenched in lemon juice
100g crumbly goats cheese
Zest of 1 lemon
50g pistachios, roughly chopped
2 handfuls mint leaves, roughly chopped
10 slices Parma Ham
Rub each slice of ciabatta with a little olive oil before lightly toasting each side on a hot griddle

Remove the toasts from the griddle and rub basil and garlic into each. Season with a little salt and pepper then leave to cool

Top each brushetta with avocado slices, goats cheese, lemon zest, pistachios and mint leaves

Drizzle each bruschetta with a little olive oil before finishing with a slice of Parma Ham
Parma Ham, peppered cream-cheese and Parmesan blinis with homemade pesto
Makes 20 cocktail blinis
125g cream cheese
1 tsp cracked black pepper
20 cocktail blinis
20 basil leaves
10 slices Parma Ham, halved
Pesto:
1 handful basil
Zest of 1 lemon
20g pine nuts
20g grated Parmesan cheese
1 clove garlic
Pinch black pepper
Blend together the ingredients for the pesto, cover and leave in the fridge until needed

Mix together the cream cheese and black pepper and leave covered in the fridge until needed

When you're ready to assemble the blinis, simply spread a little peppered cream cheese over each blini, press a basil leaf into the cheese and top with a little homemade pesto before finishing with half a slice of Parma Ham
All photos in this post were taken by John Holdship for The Dialogue Agency.
Sausage plait is one of those dishes I can't remember first having. Not a staple in our house but one that cropped up every so often. And then they taught us to make it at school too. These days the quality of the sausagemeat is better, the flavours and seasoning added into the dish more varied and the pastry is home made but the fun of makeing and the delight ineating a sausage plasit is just the same as ever.
We all know a sausage plait is simply a super sized and somewhat pimped sausage roll but still, a delicious weekend meal. If you are lucky you might even have a little leftover for your lunchbox in the week.
I'm sorry about the lack of photos, but despite what the other members of the household think I don't photograph everything I eat. I wasn't going to blog this sausage plait recipe but instagram went mad for my only photo yesterday so I thought I'd share.
Sausage plait
Either 1 pack good quality shortcrust pastry or make your own with 250 g flour, 125g butter and lard mix.
2 packs good quality sausages, skinned
1 small onion finely chopped
1 small pepper finely chopped
3 mushrooms finely chopped
tomato puree
mustard
worcester sauce
salt and pepper
beaten egg to egg wash the plait.
How to …
Make the pastry if using home made and pop into the fridge to rest.
Preheat the oven to 200c
In a small frying pan cook the onion, peppers and mushrooms until softened. If you want to add some garlic you can do this too. Leave to cool.
Place the sausage meat into a big bowl, add in the cooled vegetables, a squeeze of puree, a dollop of mustard and a good shake of Worcester sauce. Season with salt and pepper here too.
Roll out the pastry until it is a rectangle, 12″ by 15′ and about the thickness of a pound coin.
Trim the edges to neaten a little.
Lay the sausage meat down the middle of the pastry.
You can wrap this like a conventional sausage roll or look on YouTube to find a video of the plaiting method for sausage plaits.
Place on a baking tray line with baking parchment.
Egg wash the pastry.
Bake for 35 to 40 minutes until the pastry is golden brown and the filling is cooked through.
Serve this with a big green salad and a glass of cold white wine.
Funny what catches your eye,stops you and makes you think isn't it? Earlier this week I came across the #clearaplate campaign from Project Sunlight, in conjunction with Oxfam. The core values of the campaign are to fight against food waste in commercial settings, at the home level and to provide assistance to families struggling with food poverty.
In the UK today, 11,500 tonnes of food will be thrown away, yet one in five families will struggle to put food on the table. Project Sunlight has already provided two million meals to British families through their partnership with Oxfam UK. With our help they are aiming to provide half a million more. #ClearAPlate because no one should struggle to feed their family while food is being wasted.
What can I do? I'm only one person, but I'm a person who writes about food all the time. I am passionate about leftovers and what you can do with them. I have written so many leftover recipes. So that what I'm doing for #clearaplate.  What I have I'm willing to share.  To be fair, they have been freely available on Mintcustard for ever but now I'm putting them all together in one place. I've sorted them into categories by ingredient type. I hope this helps. As I publish new recipes on Mintcustard I'll try to remember to update this list.
Meat leftovers
Monday Pie, using up leftover roast chicken. (or turkey)
Chilli dogs, using up leftover roast beef or beef casserole
Vietnamese spring rolls, using up leftover lamb, or any meat you happen to have!
Chicken stock and a chicken noodle soup – don't throw away the chicken or turkey carcass.
Char sui bao, steamed pork buns filled with leftover pork
Vegetable leftovers
Broccoli Stalk soup – yep, don't throw the stalk away!
Fridge bottom risotto, using up those unloved vegetables
Pepper baked tortillas – yesterday's roast potatoes get used up
Roasted pumpkin fougasse – using up squash and pumpkin
Fridge bottom quiche with a potato crust
Potato scones – using up leftover mash
Panzanella – using up leftover tomatoes, and ideal packed lunch salad.
Sweets and snack leftovers
Tiffin, using up leftover chocolate and biscuits
Compost cookies – sweet and savoury snacks used up together.
There are also many fantastic meal planning blogs. I urge you to make use of their expertise and enthusiasm.
Everyone can make a difference
Let's hope that our generation can be the one that ends food poverty in the UK. No child should go to school hungry, no Mum should skip meals to feed her family, no older person should live on tea and biscuits. But they do.
What are YOU going to do to stop this happening?